ILIUM COMPOSITES LAUNCHES INDUSTRIAL GRADE AMPLIFY SURFACE VEIL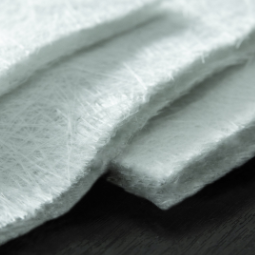 Ilium Composites, the global manufacturer of fiberglass structural composite reinforcements, has developed an industrial grade polyester surface veil offering improved surface finish and increased chemical and corrosion resistance.
The thermobonded veil will be offered in 30g/m2 and 60g/m2 formats, as well as in full rolls up to 2540mm wide, for use as a standalone product or mechanically bonded for integration with Ilium's extensive range of composite reinforcements for closed mold, open mold and pultrusion processes. After successful tests at onshore fish farms and in boatbuilding applications, the Amplify surface veil is available now with a range of uses and benefits aimed at maritime and other relevant industries.
Amplify surface veil works to create an aesthetic finish to boat hulls and surfaces by reducing the appearance of glass fibers on the gelcoat—ideal for 'Class A' skin coat and automotive applications. Customers can expect to see further benefit from:
A surface veil that can be mechanically fixed to current Ilium products without chemicals or stitching, improving surface finish.
Compatibility with a broad matrix selection.
An open structure allowing ease of resin flow.
In wet applications, gelcoats are at risk to water penetration, where exposure can result in large or multiple micro blisters as the coating delaminates from the main composite laminate. Ilium's surface veil provides a strong resistance to blistering and moisture ingress thanks to the resin rich layer and strong fiber bond against the gelcoat. In addition, Amplify provides corrosion protection to pultruded composite parts such as ladders and hand railings used in harsh-chemical environments. Preferred over metal alternatives that are more prone to deteriorate, the composite surface veil is unrivalled in value for money in chemical resistance compared to its competitors.
Amplify cuts costs by 50% when compared to current market-leading PES surface veils, while achieving greater improvement in fiber print, osmosis, and chemical protection.
Colin Leatham-Locke, Business Development Manager at Ilium Composites, explains, "Our unique manufacturing capability and mechanical binding system has proven to offer benefits and features not available elsewhere in the market. These features are standard in all Ilium reinforcements, they help customers to remove costly secondary processes and save time, whilst producing higher quality parts".
Ilium's Amplify surface veil will be on display at JEC World in Paris, from 3rd-5th May 2022, in Hall 5, Stand M79. For more information or to make an appointment at the show, please visit www.iliumcomposites.com or email info@iliumcomposites.com.